MDC Alliance activist, Netsai Marova has been released from prison after spending the Sunday night in prison for allegedly entering a restricted area at the Robert Gabriel Mugabe International Airport.
Pindula News present a police statement on the matter reads in part:
4. On the 27th of tune 2021 and at around 2200 hours, the COMPLAINANT was on duty at the DEPARTURES ENTRANCE at the ROBERT GABRIEL MUGARE INTERNATIONAL AIRPORT, IIARARE. The ACCUSED PERSON (Netsai Marova) came and approached the COMPLAINANT seeking assistance as she had a relative who had just arrived at the ARRIVALS HALL, onboard FAST JET and needed to be re-tested for COVID 19. The ACCUSED PERSON was then informed by the COMPLAINANT that she had no knowledge of the process. The ACCUSED PERSON was referred to one MR BULAWAYO of the NATIONAL HANDLING SERVICES for assistance but same had no knowledge.

5. The ACCUSED PERSON was then ordered to go back at OUTSIDE the DEPARTURES ENTRANCE and the ACCUSED PERSON insisted that she wanted to go to the ARRIVALS HALL. The ACCUSED PERSON was advised by the COMPLAINANT that such ENTRY WAS RESTRICTED but the ACCUSED PERSON proceeded to the ARRIVAL HALL and entered through a NO ENTRY DOOR of the ARRIVALS HALL DOOR.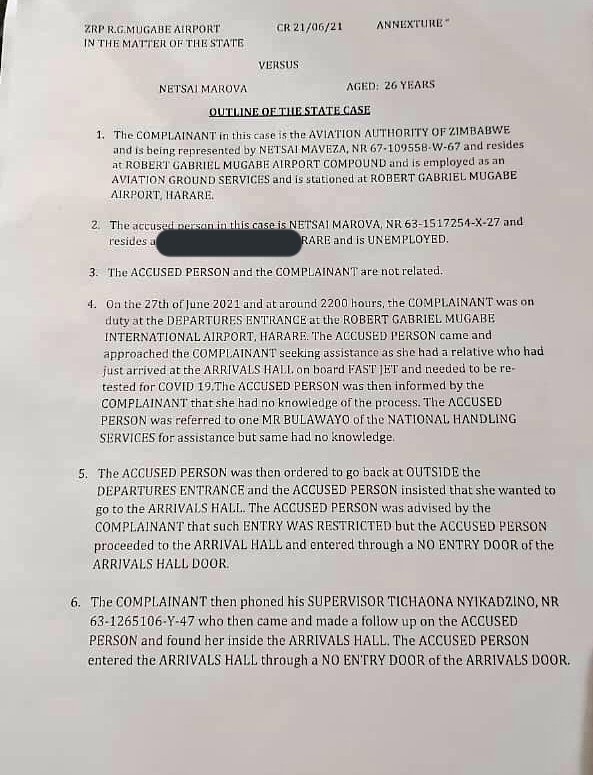 More: Pindula News