ZIMBABWE EVENING WEATHER REPORT AND FORECAST ISSUED AT 1600 HRS ON MONDAY 21 JUNE 2021 VALID UNTIL WEDNESDAY 23 JUNE 2021.
It was mostly cloudy, cold and windy in Masvingo, Manicaland, Midlands, Matabeleland South and Mashonaland East Province. Slight drizzle occurred in areas such as Beitbridge, Buffalo Range, Chisumbanje, Buhera, Wedza and Rusape.
FORECAST FOR TUESDAY 22 JUNE 2021:
---
Are you in Zimbabwe?
Read Pindula News without data on your phone on freedata.pindula.co.zw
Only Applicable to Econet lines
#FreeData
---
North-eastern parts of Masvingo, Manicaland, Mashonaland East, Mashonaland Central and Harare Metropolitan Provinces should be mostly cloudy and cold at first, becoming mild later with more sunny breaks. The rest of the country, namely Matabeleland South, Matabeleland North, Bulawayo Metropolitan, southern parts of Midlands, south-eastern districts of Masvingo and Mashonaland West are expected to be mostly sunny and mild during the day, though cold during the night.
IMPACTS
• Cloudy and cold conditions may affect the health of all persons, however, persons of an ill disposition, the elderly and young children tend to be more vulnerable.
• Low temperatures, especially in the early hours of the morning have negative impacts on poultry and some crops.
• The Winter Solstice, 21 June is the period when the sun is the furthest north. This marks the shortest daytime and the longest night.
• Solar-dependent systems may be affected by fewer clay-light hours.
ACTIONS TO TAKE
• Keep warm by wearing appropriate winter attire, where possible stay indoors.
• Ensure that vulnerable members of society are kept warm, especially overnight.
• Avoid brazier or open fire to keep warm, in an unventilated room to prevent carbon monoxide poisoning.
• Closely monitor the temperatures within fowl-runs and adjust accordingly.
• COVID is still a potential threat, stay safe, mask up, get vaccinated.
• If one is dependent on solar, ensure the load is minimised when charging is not optimal.
OUTLOOK: WEATHER FORECAST FOR WEDNESDAY 23 JUNE 2021
It should be mostly sunny and mild by day becoming cold towards evening countrywide. Slight
ground frost is probable in areas over high ground.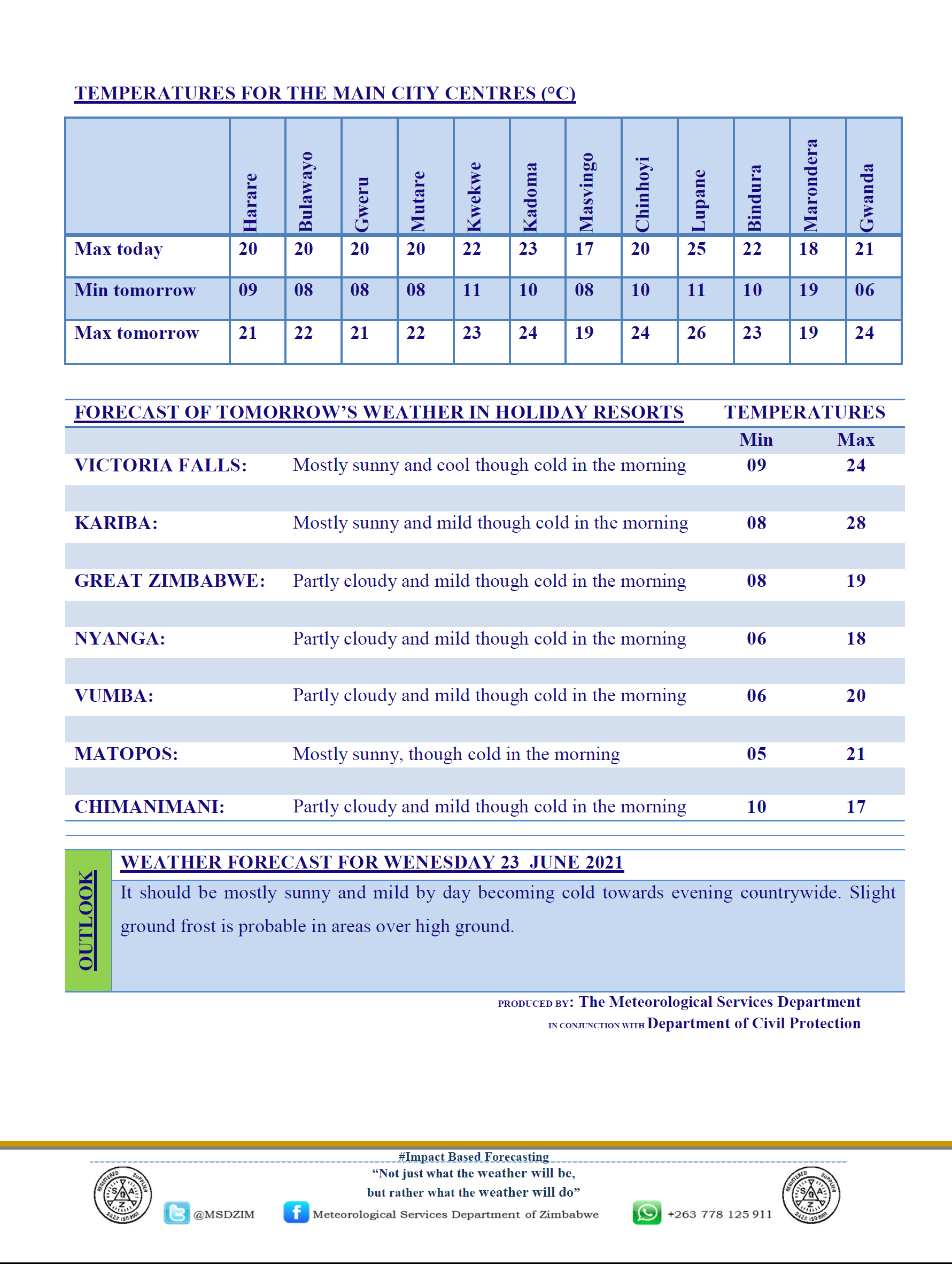 More: Pindula News; MSD