The opposition MDC Alliance led by Nelson Chamisa has condemned the planned demolition of illegal homes in Chitungwiza saying the move is in violation of the constitution.
This comes after Chitungwiza Municipality has issued a demolition order which indicates that it intends to demolish 35 illegal structures in St Mary's, Zengeza and Seke. See the attached order.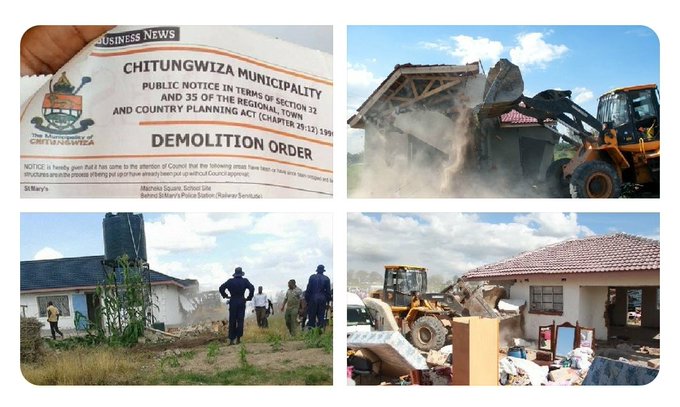 ---
Are you in Zimbabwe?
Read Pindula News without data on your phone on freedata.pindula.co.zw
Only Applicable to Econet lines
#FreeData
---
In response to the notice, MDC Alliance called upon the Local Government minister, July Moyo to uphold the constitution which forbids the demolitions. MDC Alliance said:
The MDC A unreservedly condemns the arbitrary demolition of homes in Chitungwiza following a Central Govt directive. The demolitions violate s74 of the Constitution which outlaws arbitrary demolitions. We call upon the Minister of Local Govt to comply with the Constitution.
Acting town clerk Mrs Evangelista Machona Thursday notified the residents of the demolitions saying once the demolitions were effected, the local government authority will not incur the costs. Machona said:
Therefore, take note that in terms of Section 35 of the Regional, Town and Country Planning Act (Chapter 29: 12) 1996 you are ordered to depart from the land, remove all your property from the land, demolish any structures erected and remove all the rubble from the land, and restore the land to its original state. This order comes into operation forthwith and the demolitions and action outlines herein should be completed within five days by 12 October 2020.
Chitungwiza public relations officer Mr Lovemore Meya said the demolitions follow a central government directive to sanitise the towns.
Some are criticising the central government for issuing the directive while some blame the local authority for allocating land at undesignated sites.
In most cases, land barons are the ones who allocate land in undesignated areas to unsuspecting land seekers.
More: MDC Alliance; The Herald