Dr Phophi Ramathuba, a member of the executive council (MEC) of Health in the Limpopo Province, South Africa, has torched a social media storm after she was captured on camera telling a Zimbabwean patient to get medical treatment in Zimbabwe. Pindula News posted the video earlier: Video.
The medical doctor confronted a Zimbabwean patient at a Bela-Bela hospital telling her that South Africa does not have the budget to accommodate foreign nationals. She said the patient would not be discharged if she does not pay the bills. She told the patient:
How do you find yourself in Bela-Bela when you are supposed to be with Mnangagwa (Zimbabwean president Emmerson Mnangagwa) there? You know he doesn't give me money to operate you guys and I'm operating you with my limited budget…

When you guys are sick, I'm hearing these days you just say, 'let's cross Limpopo river, there is an MEC there who is running a charity department. It's not…
Her remarks have sparked debate on social media and yonder with people across different walks of life giving their opinions. Some said she correctly identified the real problem while some are accusing her of violating the ethics of the health profession which require health caregivers to offer services to everyone despite their "age, disease or disability, creed, ethnic origin gender, nationality, political affiliation, race, sexual orientation, social standing or any other factor…"
The Economic Freedom Fighters (EFF) led by Julius Malema have since called for her dismissal saying she was unprofessional. 
Pindula News presents some of the comments that were made in response to her remarks:
Mmusi Maimane @Mmusi (Former Democratic Alliance (DA) leader) said:
Every doctor takes this pledge.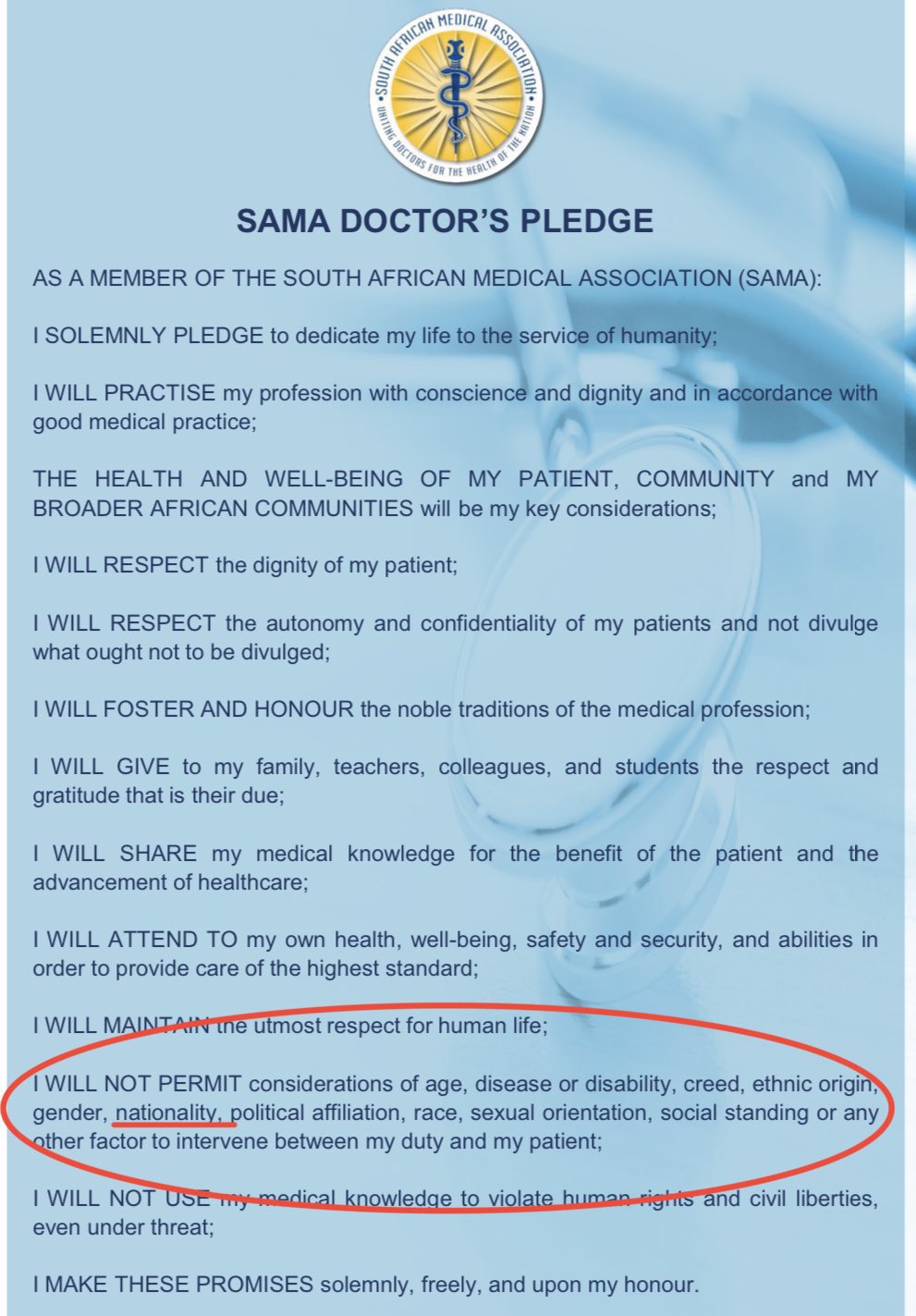 Redi Tlhabi @RediTlhabi:
Respectfully Dr, the issue is not statistics & the pressure under which health system finds itself..it is whether or not it is appropriate for a doctor to make her case to a patient..What is the patient supposed to do? AND she is an MEC, with access to the president & minister.
Dhara Blessed Mhlanga @bbmhlanga (Alpha Media journalist):
I don't care whatever is wrong with my country but this here MEC is wrong, unethical and dangerous your leadership is toxic. She can't be allowed to run health institutions.
Thandekile Moyo @Mamoxn (a writer for Daily Maverick and human rights defender from Zimbabwe):
I find it problematic, & Entitled, That we expect to get free treatment in SA, But can't demand it here in Zimbabwe, We have strong voices calling for the SA MEC to resign, But are doing nothing to hold accountable, Those looting Zim resources. SA owes us nothing. #ZanuPFMustGo
Hopewell Chin'ono @daddyhope (freelance journalist and filmmaker, CNN African journalist of the year award winner):
In any normal country this video would be the leading item on all news stations & newspapers, and it would cause emergency debate in parliament tomorrow morning, but not in Zimbabwe. This South African minister is right, Zimbabwe has become an embarrassment due to ZANUPF LOOTING.
Mbuyiseni Ndlozi @MbuyiseniNdlozi (SA MP and member of EFF):
That MEC is humiliating a Zimbabwean. Next, it will be unemployed South Africans told they can't be operated because they don't contribute anything to taxes that budgets are based on! But why humiliate a patient like that! Where are medical ethics? Confidentiality & Dignity?

No one, not even migrant workers or so-called African "illegal immigrants" deserves humiliation in our hospitals. The MEC of Limpopo has violated basic ethics of patient treatment, confidentiality and dignity. She must be removed as MEC, her licence revoked as a medical doctor!
Official Rakgadi Soldier @Rakgadi_EM:
On a serious Note if that patient was white or Indian was MEC going to utter the same rubbish?
Chipo Dendere @drDendere, a Zimbabwean visiting Assistant Professor of Political Science and Consortium for Faculty Diversity Scholar at Amherst University in the United States of America, said:
For full context the Zimbabwean patient was given care. However, MEC was saying don't discharge without payment. Debate with full details for or against but the facts are that Zimbabweans need a home solution ASAP. In Zim people can't even get care without paying a lot upfront.
Mduduzi Mathuthu @Mathuthu (Zimbabwean journalist and founder of ZimLive.com):
Make the MEC president of SA, she appears to correctly identify the root of the problem.
LynneM @LynneStactia:
In recent times VP Chiwenga was admitted to a South African hospital where was that crazy Skilled Rebhara (Dr Phophi) to go tell him to go get treatment in ZW? She did so to that woman coz she is poor? Why not tell those who have put that woman in those difficult circumstances? HYPOCRITES! ANC leaders are part of the problem we have in Zimbabwe musandipikise!