The Zimbabwe Republic Police (ZRP) has advised members of the public that its auction will accept payments using the Reserve Bank of Zimbabwe (RBZ) official rate.
In an earlier notice, ZRP had indicated that it will be using an exchange rate that is above the one declared by the RBZ. Read part of the notice:
Conditions of Sale

• Deposit: ZWL500 000.00 or $3 000 USD for vehicles

• Deposit: ZWL350 000.00 or $2 000 USD for other items

• Deposit is refundable Wall sale conditions are met.

• Entry is strictly to catalogue holders only, at ZWL1 600.00 OR $10 USD per head.

• Payment strictly Cash/Swipe/RTGS at the conclusion of the sale

• All COV1D 19 regulations to be observed.

• No Mask No Entry, Temperature Screening and Social Distancing on Viewing and Sale DA)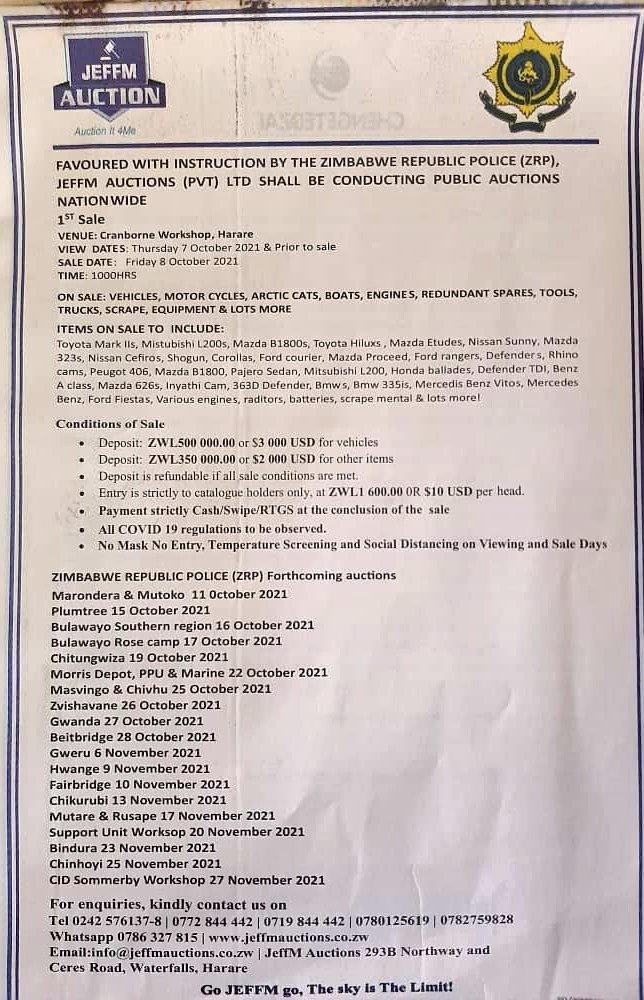 The notice was circulated on social media by ZimLive forcing the ZRP to respond. Said ZRP:
The ZRP advises the public that it has taken note of the message posted on @zimlive on the pending auction of boarded and accident-damaged vehicles by JEFFM Auction who won the bid.

Please take note that JEFFM Auction management has been directed by the ZRP Command to accept payments using the RBZ official rate. Potential buyers are accordingly informed. We thank the public and the media for raising concern over the issue.
The government has in the recent past issued a cocktail of measures to curb illegal forex dealings.
It also threatened action against individuals and or companies that were not using the RBZ exchange rate.
More: Pindula News