Members of the Political Actors Dialogue platform initiated by President Emmerson Mnangagwa in 2018 for participants in the 2018 presidential elections have received vehicles from the government.
The vehicles which are said to be for POLAD activities will belong to the members after three years.
ZANU PF's representative in the POLAD, Partick Chinamasa, who is also a former Finance Minister, received an Isuzu vehicle at the State House on Friday.
Trust Chikohora and National Constitutional Assembly (NCA) presidential candidate in the 2018 elections, Lovemore Madhuku, both POLAD principals also received cars.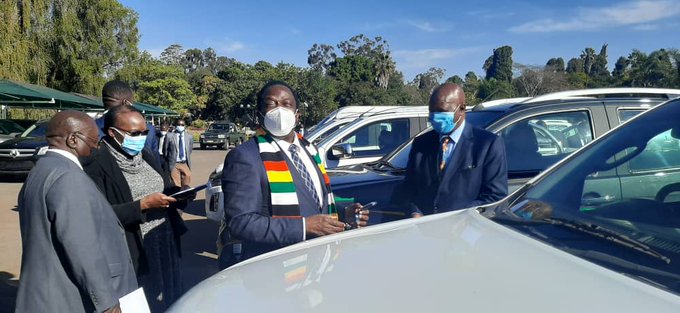 Some analysts including South Africa-based Zimbabwean entrepreneur, Mutumwa Mawere, suggested that the move was evidence of state capture. He added:
Political losers being rewarded – what are the legal and constitutional questions that arise from this discretionary use of public power?
Others suggested the government's priorities were misplaced. Said one commentator:
It always amazes me how Mnangagwa can find the money to get chiefs and people like Chinamasa cars but our hospitals and schools are underfunded because the government has no money.
These remarks were echoed by another who suggested that the money that bought the vehicles could have been used to resuscitate the health sector. Said the commentator:
Chitungwiza central hospital has been operating for many years without a service ambulance. The ICU is in sorry state is polad necessary during covid 19?.
President Emmerson Mnangagwa has also invited Douglas Mwonzora, leader of the opposition MDC-T to join the platform.
He said Mwonzora was now the leader of the opposition in the house therefore, qualifies to be in POLAD although he was not a presidential candidate in the 2018 elections.
He also invited other Zimbabweans to join the platform that has been viewed by some as a platform meant to legitimise Mnangagwa's rule after the disputed 2018 elections.
MDC Alliance led by Nelson Chamisa which claims the 2018 elections were rigged in favour of ZANU PF candidate, Mnangagwa, refused to join POLAD demanding genuine dialogue convened by a foreign convener.
The party also demanded that Mnangagwa's legitimacy be on the agenda.
On the other hand, ZANU PF refused to entertain the demands by MDC Alliance resulting in a deadlock.
POLAD has in the past moved to engage the international community, complementing the government's engagement and engagement agenda which the Mnangagwa regime embarked on since 2017.
Zimbabwe has been isolated from the international community since the turn of the millennium when the Robert Mugabe regime embarked on a chaotic fast track land reform programme during which gross human rights violations were allegedly recorded.