On 23 June 2018, there was an assassination attempt at a ZANU PF rally held at the White City Stadium in Bulawayo where President Emmerson Mnangagwa was campaigning for his party ahead of that year's harmonised elections.
There was a blast a few yards from the president who was stepping off the stage to make way to his motorcade.
Dozens of people including Vice President Kembo Mohadi, Minister of DefenceOppah Muchinguri and then-wife of Vice President Constantino Chiwenga sustained injuries while Mnangagwa's guard was blown completely dead.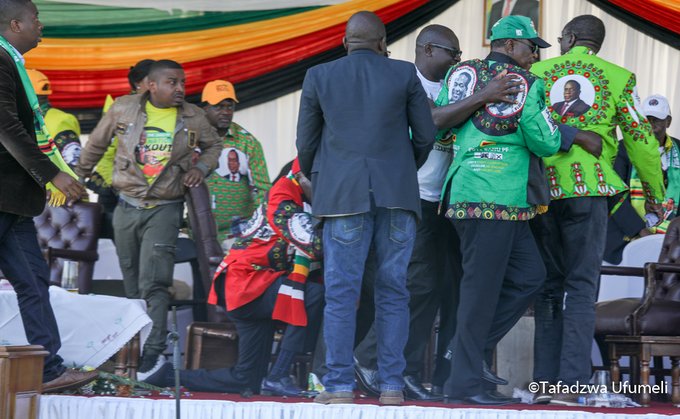 In an endeavour to get to the bottom of the matter, the government roped in bomb experts from Belarus to join the country's Criminal Investigation Department.
The team's investigation concluded that the explosive device was an offensive fragmentation grenade made in Russia adding that it had been lobbed in Mnangagwa's direction from a distance of about 17 to 20 meters.
Two men, described as drifters who sometimes worked as commuter omnibus touts, were arrested and later released after it was established they were not connected to the explosion
To date, the identity of the perpetrator(s) is not known, something that was described 17 months later by former War Veterans Minister, Tshinga Dube, as concerning since the perpetrators can repeat it knowing that they can get away with it.
Immediately after the blast, President Mnangagwa reshuffled his security detail.