Scores of people expressed outrage on social media following the death of a vendor, Hilton Tafadzwa Tamangani who died in police custody. He was one of the eleven men accused of having assaulted a police officer in Harare last week. Whilst the government this Saturday said that they were waiting for a post-mortem report to ascertain the cause of his death, others believe that he succumbed to injuries he sustained when the police assaulted him.
Below are some of the responses to Tamangani's death.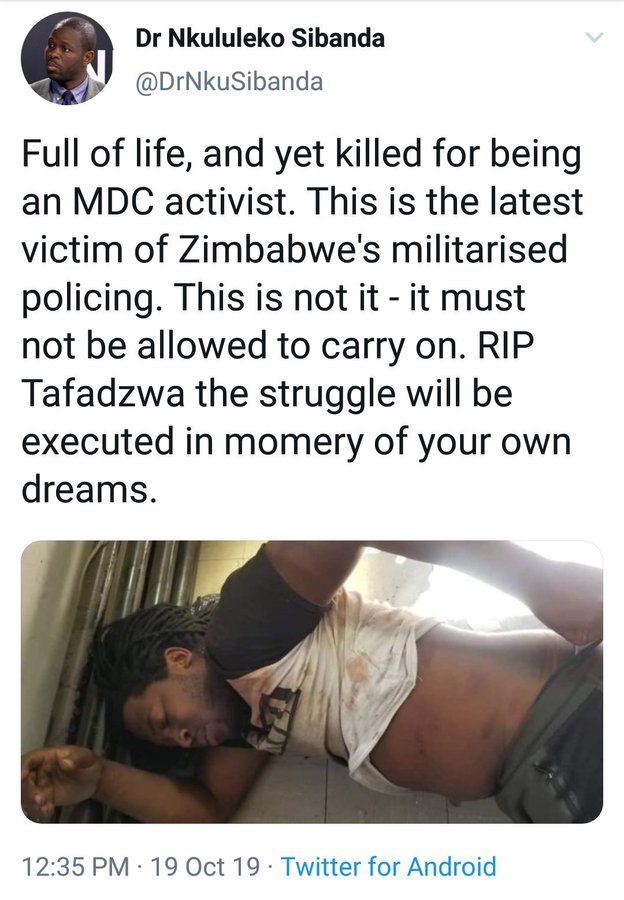 - - - Buy NetOne, Telecel Airtime on WhatsApp using EcoCash.
Send the word Airtime to +263 714 815 229
No extra charges. - - -
https://twitter.com/petergumbo1/status/1185580357447495685
David Coltart

@DavidColtart
I strongly condemn the further murder by state agents of a young Zimbabwean whose only crime was to be a vendor. The brutality of the Mnangagwa regime which has killed more than 20 people in cold blood in the last year must end now.
This young man was a vendor who was 1 of 11 arrested by the police. He has died on account of beatings by the police. His name is Hillary Tafadzwa Samangani. This is a State that kills citizens but wants to get the same citizens to march against sanctions invited by THIS brutality
Nelson Chamisa

@nelsonchamisa
Police brutality in Zimbabwe must now end.The whole duty of government is to save and preserve lives not take life away.
We are saddened to hear about the passing on of our client Hilton Tamangani at Harare Remand Prison after he was arrested last week&tortured by ZRP. We did all we could to have Hilton treated by private doctors but ZPCS could not entertain our request. MHDSRIP
I sincerely sympathize with the family of the vendor who died in remand prison. My deepest condolences go to his family. But then, for these recycled "human rights defenders" to go apoplectic against the Government before an autopsy has been conducted smacks of desperation.
Ministry of Information, Publicity & Broadcasting

@InfoMinZW
Govt would like to inform the public of the death in custody of an individual who was on remand in the custody of Prisons and Correctional Services. The individual was remanded in a condition of unwellness and immediate medical care was sought for him and he was hospitalised.
He was attended to by doctors. All deaths in custody are thoroughly investigated. We now await the result of a postmortem to ascertain cause of death. We wish to convey our condolences to the bereaved family and friends of the deceased. May his soul rest in peace.
This is bullshit by a bullshit handle run by bullshit folks. You can't even face the nation and tell the TRUTH? Tafadzwa Hilton Tamangani a vendor, was arrested, severely tortured by the police. He applied that he be treated by a doctor but was denied. He died in police cells!
So why detain someone who is not well?.
They are heartless and insensitive. "An individual" as if he had no name.

@nickmangwana

state communications ought to treat humans as humans. Did the state not know the name of Hilton who was in its custody? Why relegate him to "an individual" as if he has no name?
Fadzayi Mahere

@advocatemahere
A week ago, a vendor by the name of Hilton Tafadzwa Tamangani was among many vendors who was severely beaten by the police for vending. Today, he died in custody. The court was yet to rule on his bail application. May he Rest In Peace. Being Zimbabwean is hard.