The Apex Council has provisionally accepted the salary offer tabled by the government of between 50% and 76% and said that negotiations are ongoing.
This follows a National Joint Negotiating Council (NJNC) meeting held in Harare on Tuesday.
The NJNC agreement reads as follows:
Having taken note of the challenges being faced by members of the Public Service due to the rising cost of living, and having noted the state of the economy, the following agreement was made in the National Joint Negotiating Council meeting held on 27 August 2019 at Kaguvi Building, Harare that:

a cost of Living Adjustment (COLA) ranging from 50% to 76% of the total package (basic salary + transport allowance + representation where applicable) be effected on a sliding scale with effect from 1 August 2019.

The Council also agreed that negotiations would continue taking into consideration the cost of living and the prevailing economic environment.
Meanwhile, on Monday, doctors and teachers rejected the offer, with the former saying that the deal is tantamount to nothing.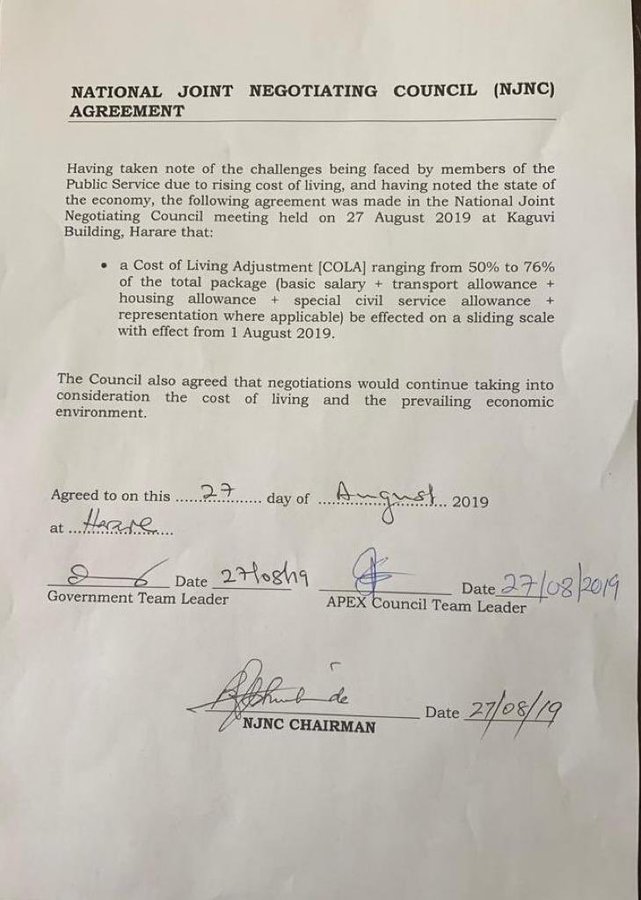 ---
Quick NetOne, Telecel, Africom, And Econet Airtime Recharge
If anything goes wrong, click here to enter your query.